Barcelona
Metro
---



Metro map
---



Timetable
---



Ticket prices
---
L1

Line 1
L2

Line 2
L3

Line 3
L4

Line 4
L5

Línea 5
L6

Línea 6
L7

Línea 7
L8

Línea 8
L9N

Línea 9N
L9S

Línea 9S
L10N

Line 10N
L10S

Line 10S
L11

Line 11
All lines
More about Barcelona
---



Tourist map
---



Buy tourist tickets 20% off
---



Bus map
---



Airport maps
---



Weather
---
Prices for Barcelona metro tickets
Updated: September 2023
Below are the prices for Barcelona metro tickets
Transportation in Barcelona is divided by zones, zone 1 (zone one) is for Barcelona city. Zones 2 through 6 are for cities outside Barcelona, ​​as Manresa, Mataró, Terrace, etc.
Firstly, you'll find in this page the prices for transport tickets used by most citizens of Barcelona, next the ones used by tourists and finally the recommended use of bank notes in special situations.
All tickets (except single ticket) allow transfers between different means of transportation, such as boarding a metro, then a bus, a tram, etc., for 1 hour and 15 minutes for zone 1 tickets. This time is longer for other zones. (see below for more info).
Two things to keep in mind when you buy the ticket: how many trips you plan to take and what the price is. It's important understand a average price per trip, depending on the ticket, if you want save a lot of money. ;)
The same information and more. In short, this is the list price (2023) almost all tickets Barcelona metro and for all zones:



Tickets
Trips
Days
Mode
1
zone
2
zones
3
zones
4
zones
5
zones
6
zones
Single ticket
1
-
Unip.
2,40€
3,40€
4,50€
5,75€
7,35€
8,55€
T-Casual card
10
Unlim.
Unip.
11,35€
22,40€
30,50€
39,20€
45,05€
47,90€
T-Usual card
Unlim.
30
Unip.
40,00€
53,85€
75,60€
92,55€
106,20€
113,75€
T-Jove card
Unlim.
90
Unip.
80,00€
105,20€
147,55€
180,75€
207,40€
222,25€
T-Dia card
Unlim.
1
Unip.
10,50€
16,00€
20,10€
22,45€
25,15€
28,15€
T-Familiar card
8
30
4 pers.
10,00€
19,00€
27,00€
35,00€
40,00€
42,00€
T-Grup card
70
30
Multip.
79,45€
156,80€
213,50€
274,40€
315,35€
335,30€
T-Usual FM/FN General
Unlim.
30
Unip.
32,00€
43,10€
60,45€
74,05,€
84,95€
91,00€
T-Usual FM/FN Especial
Unlim.
30
Unip.
20,00€
26,95€
37,80€
46,30€
53,10€
56,90€
T-Jove FM/FN General
Unlim.
90
Unip.
64,00€
84,15€
118,05€
144,60€
165,95€
177,80€
T-Jove FM/FN Especial
Unlim.
90
Unip.
40,00€
52,60€
73,80€
90,40€
103,70€
111,15€
T-FM/FN 70/90 General
70
90
Multip.
63,55€
125,45€
170,80€
219,50€
252,30€
268,25€
T-FM/FN 70/90 Especial
70
90
Multip.
39,75€
78,40€
106,75€
137,20€
157,70€
167,65€
Hola BCN! 2 days
Unlim.
2
Unip.
15,00€
-
-
-
-
-
Hola BCN! 3 days
Unlim.
3
Unip.
22,00€
-
-
-
-
-
Hola BCN! 4 days
Unlim.
4
Unip.
28,50€
-
-
-
-
-
Hola BCN! 5 days
Unlim.
5
Unip.
35,00€
-
-
-
-
-
T-4 card
10
-
Unip.
4,00€
-
-
-
-
-
T-16 card
Unlim.
Unlim.
Unip.
0€
0€
0€
0€
0€
0€
Unlim. = Unlimited.
Unip. = Unipersonal. The card is only for one person (and with you ID Card or passport).
Multip. = Multipersonal. The same card can be used by one or more people.

Special tickets for tourists
RECOMMENDATION: In the web of Tiqets, you can save up to 10% on some tickets such as the Tourist Bus, Zoo, Cable Car, etc. In general you can buy these tickets online and you save queuing:

Zones
All places in Barcelona City are Zone 1, if you wish to travel outside the city of Barcelona (for example, the cities of Manresa, Terrassa, etc.) the price of transport tickets are more expensive depending on the area you are traveling to.
A "zone 1 ticket" allows you to travel inside a single zone.
A "zone 2 ticket" allows you to travel through two zones (for example from zone 5 to zone 6, or from 1 to 2).
A "zone 3 ticket" allows you to travel through 3 zones (eg from zone 2 to zone 4, or from zone 1 to zone 3, or from 6 to 4, ...).
A "zone 4 ticket" allows you to travel through 4 zones.
A "zone 5 ticket" allows you to travel through 5 zones.
A "zone 6 ticket" allows you to travel through 6 zones.
Below you can see the different areas, click on the image to enlarge: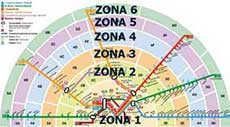 You can download the map of areas of Barcelona in PDF (178 KB).


mini FAQ
Which means of public transportation I can use with the tickets? During a given time, a ticket can be used for the following forms of public transportation, if changing is necessary. The same ticket may be used again, without the machine "chopper" marking a new journey:
Metro.
Bus
Train (Renfe).
Catalan railway train (FGC).
Cable car (Funicular of Montjuïc) in Parallel stop, line 2, the color purple line.
Tram.
There may be complications, however (see at the bottom of this page under "Important" for exceptions). For example if you go round trip on a bus using the same line, it is marked as two trips, although the card ay still be within the time limit. If you take the metro, then the Tram and then the bus it's marked as only one trip.
¿Children trip is free? Yes, from 0 to 3 years old is free. From 4 years old must pay normal ticket.
And what kind of transportation CAN'T I use, with the tickets?
The blue tram (the tram that takes you to up the mountain of Tibidabo).
The cable car from Montjuic to marine port.
Tourist bus.
These tickets must be paid separately (see paragraph prices there before entitled: "Special tickets for tourists").
And how long can I use the ticket? You can use different means of public transportation for 1 hour and 15 minutes, if your ticket is for 1 zone. If your ticket is for 2 zones: 1 hour and 30 minutes. For each additional zone, you get 15 extra minutes, such that the duration of a 6 zone ticket is 2 hours.
Should I check my ticket? Yes, always. Upon entering the bus or tram you must insert your ticket in the machine at the entrance to the car or the Metro or railway station FCG. You must insert the ticket into the slot, because it uses a magnetic stripe, not RF chips.
You should also be mark your ticket when switching from one form of transportation to another (the machine will beep but new trip will not be marked). If you enter the subway or railway station (FCG), machines are at the entrance of the compound or on the platform. If you do not mark your ticket and are detected by ticket checkers, you may face a fine of 100 € (50 € if you pay on the spot). Ticket checkers are usually in Sagrada Familia metro station and in Sants railway station but may be anywhere. As a rule, be sure and always check your ticket in the "checking machines" before boarding.
And where buy the metro ticket? It can be bought in various sites:
The easiest are machines at the Metro stations that allow payment with coins, bills or credit cards. The machines have touch screen with a menu of options, are in eight different languages and are very easy to use.
In tobacco shops and news shops, you can buy only single tickets and T-10 tickets (10 trips).
On the bus (not recommended) you can buy single tickets only (2,20 €) that do not allow transfer to other means of transportation. Aside from the fact that single tickets are the most expensive per trip, the bus drivers can rarely make change, and may not allow you up to the bus if you don't have exact change . If you buy the ticket on the bus, remember that you enter from the front of the bus and pay the driver when entering (or check your ticket in the machine if you already have a ticket). This may seem obvious but it isn't to everyone (in Japan for example, you enter through the back of the bus, the driver is paid at the end of the trip, and you exit through the front door of the bus).
Important
Two things:
Be very careful of pickpockets in Barcelona (especially if you look asian like japanese or chinese). We have an excellent police force in Barcelona an but they (and we all) are at the mercy of politicians who do not seem to be interested in stiffening laws to punish pickpockets. So when the police arrest a thief, he/she is freed within 30 minutes to continue stealing. Barcelona is the paradise for thieves! Pickpockets steal mainly on the escalator, when the tourists leave or enter the subway car, and sometimes on the street (especially in Las Ramblas). The vast majority of pickpockets are Moroccans or Romanian Gypsies, but not exclusively, There are a few Spanish pickpockets, as well as those from other countries. You only feel a a bump when steal from you, they are like (bad) magicians, but don't normally use violence. Watch your wallet, cell phone and luggage well, and you should be ok.
One last thing: Metro tickets (T-Casual, T-Mes, etc. EXCEPT single ticket) can also used for the bus, Funicular of Montjuïc, and rail of FGC, without buying a new ticket-provided it is within the time limit (usually 1 hour 30 minutes) and if you don't exit the compound (be aware: if you buy the single ticket, on the bus, for example, you can't use it in the other transports).
Here's example of travelling on various means of public transportation with the same ticket: if you enter in the metro, your ticket will be marked with one trip. If you then re-enter, the machine will mark another trip (2 trips total).
On the other hand, if you enter in the metro, travel to another station, leave the metro and take a bus, you can use the same ticket without the machine marking a new trip. You can use various means of transportation using the same ticket, if don't exceed the time limit (minim. 1 ½ hour, 90 minutes, depending the type of ticket you use).
---
Should you discover any fault or defect in this website, contact us and we'll fix it. Thankyou very much for your visit. We hope that our explanation of metro ticket prices was helpful to you.