Metro Line 4 Barcelona
(L4 yellow line)
Updated: September 2023
On this website we have exclusive map on line 4 of the Barcelona Metro (yellow line) the most complete and updated in Internet. We have created it from MapaMetroBarcelona.com for you.
Barcelona Metro Line 4.
In the map below we have updated all subway stops until September 2023. More maps on other sites that there are things missing or are very outdated. All stations are in zone 1.
You can download the map below, print it or do whatever you want, but reproduction is strictly prohibited on any other website, and link directly to the image.
----> Clic on map for zoom <----

Our map looks like a typical map that can be found at any metro station in Barcelona, but we've redesigned from scratch with some unreleased stuff so far, such as transfers to the new bus rapid transit, the duration between the most important metro stations and we have also marked the Metro stops are adapted to people who are in wheelchairs, prams or luggage.
Important: The express bus stops (red circles) are between 50 and 300 meters from the metro stops. The symbol with the picture of disabled (red squares) means that not all exits to the street, are adapted to wheelchairs and some have stairs.
This is other version of metro line 4 map, with the time between stations: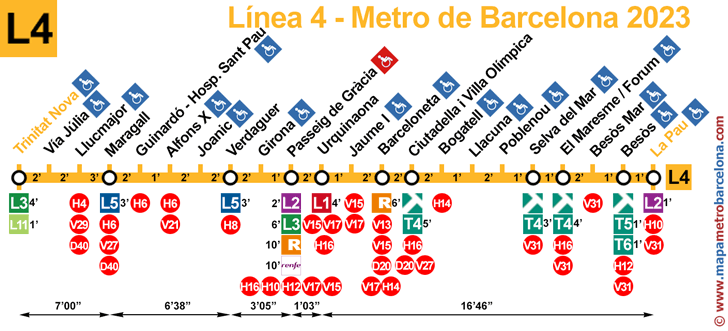 If you wish, you can also see the metro map barcelona full, a page with all the lines together (but separate individually) or you can see other lines one by one:
Line 1 | Line 2 | Line 3 | Line 4 | Line 5 | Line 6 | Line 7 | Line 8 | Line 9N | Line 9S | Line 10N | Line 10S | Line 11 | Map
Stations of the underground line 4 (L4)
Here's the list of all metro stations of line 4 (yellow line). Next to the name of the stop, we've added if you can make a transfer to other transport.
Trinitat Nova (transshipment: metro L3, metro L11).
Via Júlia.
Llucmajor.
Maragall (transshipment: metro L5).
Guinardó / Hospital de Sant Pau.
Alfons X.
Joanic.
Verdaguer (transshipment: metro L5).
Girona.
Passeig de Gràcia (transshipment: metro L2, metro L3, Rodalies de Catalunya).
Urquinaona (transshipment: metro L1).
Jaume I.
Barceloneta.
Ciutadella / Vila Olímpica (transshipment: Trambaix).
Bogatell.
Llacuna.
Poblenou.
Selva de Mar (transshipment: Trambaix).
El Maresme / Fòrum.
Besòs Mar.
Besòs (transshipment: Trambaix).
La Pau (transshipment: metro L2).
---
Feel free to contact us regarding any fault or defect, indicating the station name and we will correct it.
Thank you very much for your visit, we hope that our Barcelona Metro Map line 4 has been useful to you.